21CFR Part 11 Assessment / Gap Analysis
In March of 1997, FDA issued final part 11 regulations that provide criteria for acceptance by FDA, under certain circumstances, of electronic records, electronic signatures, and handwritten signatures executed to electronic records as equivalent to paper records and handwritten signatures executed on paper. These regulations, which apply to all FDA program areas, were intended to permit the widest possible use of electronic technology, compatible with FDA's responsibility to protect the public health.
After a while, concerns have been raised that some interpretations of the part 11 requirements would unnecessarily restrict the use of electronic technology in a manner that is inconsistent with FDA's stated intent in issuing the rule. The FDA then decided to narrow the scope of Part 11 to help reduce de cost of general compliance for computerized systems used in regulated environment and to protect what really needs to be protected.
In order to help you to comply with Part 11 requirements, we have developed a documented approach that will determine first if your computerized system qualifies to Part 11.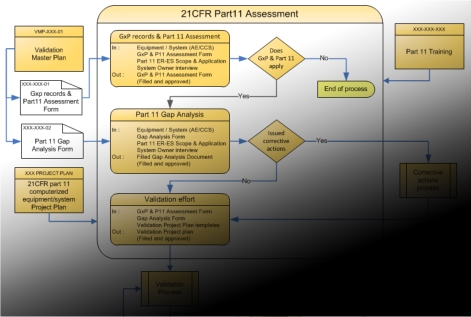 Here are the major steps found in our approach
We generate a workflow analysis of your process
We determine if your computerized system is taking part in generating and/or managing GxP records
We determine if these GxP records and computerized system can be disqualified due to the paper based utilisation of the produced data (word processor effect)
If GxP records are qualifying, we determine if Part 11 apply on produced records
If Part 11 applies, then we will perform these next steps
Gap Analysis (to determine which requirement is not fulfill by your system )
Corrective Actions (to repair or mitigate the item found in Gap Analysis)
Validation Effort (to determine what tests need to be added to Qualification Protocol)
Qualification of equipment
To be able to patch your system deficiencies, corrective actions can range from procedural mitigation to software development. The most notable deficiency found on analytical and production systems is illegal access to system data. This is mainly due to system limitation, which needs to be started with administrator's rights. This requirement sometimes, leaves the user to gain access to data directories which might potentially lead to data falsification or deletion.
To resolve this problem, we have created a patch, that enable all your users to connect to the system with their standard Windows user account, and start any software with administrator's rights, within current user's session...
You want to know more, ask us about our XRunAs application.